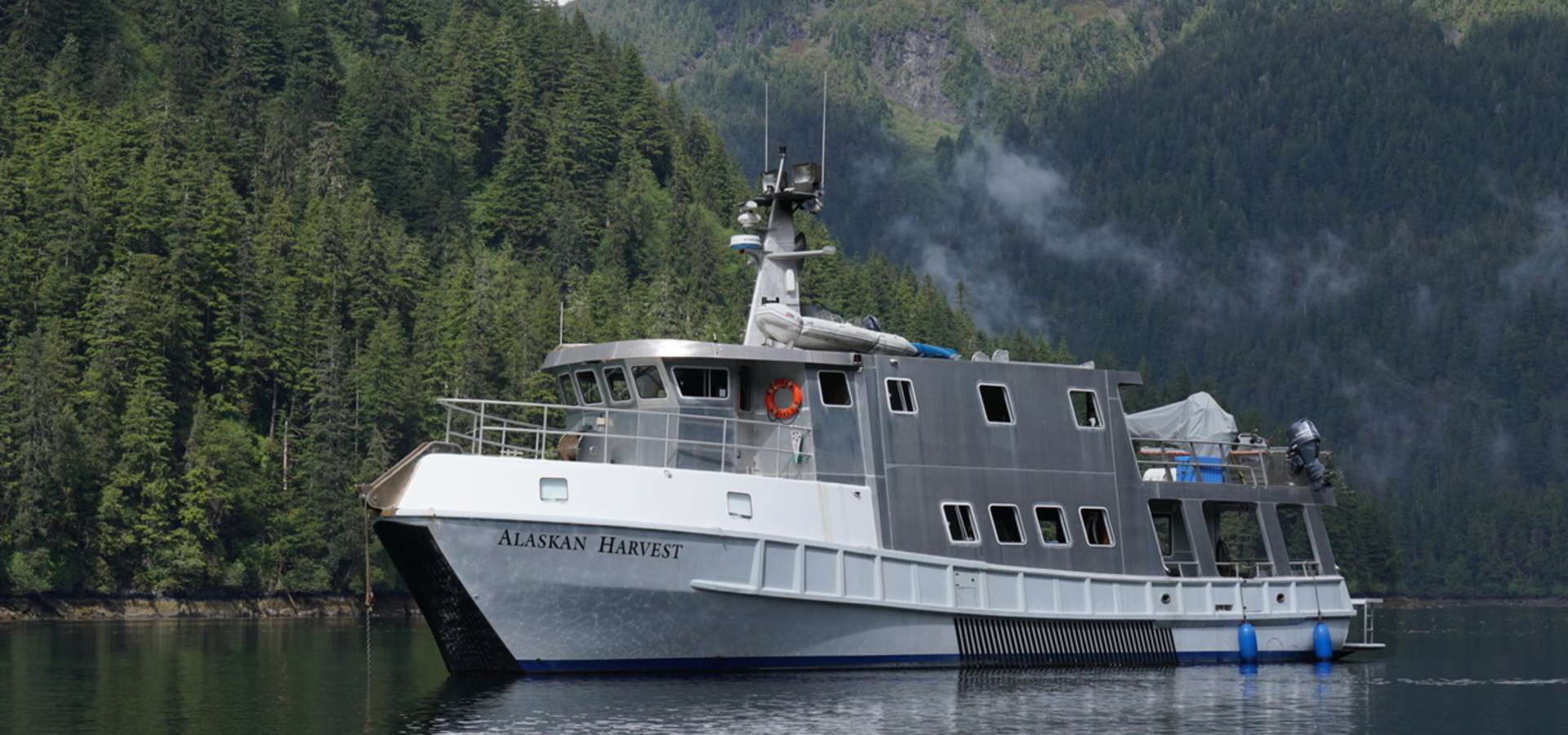 All-Inclusive Boat Cruises in Alaska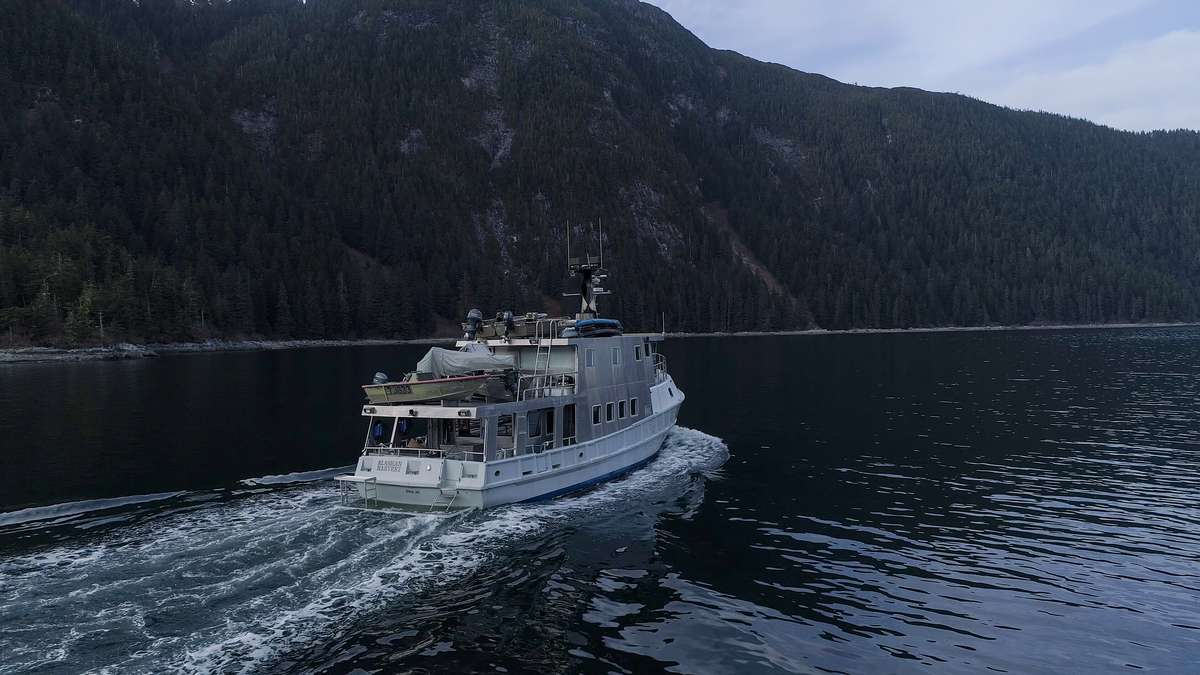 Private charter the Alaskan Harvest, an 80ft. fully crewed Alaskan yacht. We will take you to coveted wild areas of SE Alaska with activities personally chosen by your group. There are no lines, only personalized adventures surrounded in the most remote areas of Alaska. Trips include tidewater glacier viewing, kayaking, paddle boarding, day hikes, beach combing, small-town historical sightseeing, bear and whale watching, and other marine mammal viewings. Leisurely freshwater fishing and Dungeness crabbing are also available. You can also add on some of the best deep-sea salt-water fishing for all four species of salmon and halibut that our state offers out of Sitka. We are a small family business that is made up of year-round Alaskans who would love to show you the wonders of our backyard. You will transplant yourself within The Tongass National Forest, the largest temperate rainforest in the United States.
At night you will anchor in secluded coves surrounded by waterfalls while watching amazing sunsets—a custom personalized trip all for you and those closest to you. Onboard you will find four guest rooms, three with private baths, one shared bath, a roomy salon, a gourmet chef and sous chef, and competent local USGC licensed guides and naturalists for your trip. Our vessel is inspected annually by the US Coast Guard and has the highest 5-star safety rating. We also have an RN onboard and AED/First Aid/CPR certified staff.
Alaska Boat Cruises offers personalized luxury boat trips through Alaska's famous Inside Passage. We only take up to 6-12 clients at a time and specialize in giving you an authentic and "up close and personal" Alaskan cruise. Book your incredible Alaskan adventure today!
Cruise Schedule & Pricing 2023
- 5 nights/6 days
- $59,950 for up to 8 guests
- Additional guests up to 12 passengers (per family or same group) are $5,000 pp.
These trips all require a one-way floatplane ride that we arrange for you either to or from the vessel and is not included in this price. Plan on approximately $300-$350 per person for this additional cost.
Cruise 1

: June 25-30: Sitka to Juneau


Cruise 2

: July 3-8: Juneau to Sitka


Cruise 3

: July 11-16: Sitka to Juneau


Cruise 4

: July 18-23: Juneau to Sitka

Cruise 5

: July 25-30: Sitka to Juneau

Cruise 6

: August 1-6: Juneau to Sitka

Cruise 7

: August 8-13: Sitka to Juneau


Cruise 8

: August 16-21: Juneau to Sitka

Cruise 9

: August 24-29: Sitka to Petersburg
Additional Costs
FUEL SURCHARGE: anything over $4.00 per gallon of diesel or unleaded gasoline (used on the cruise) will be charged for the overage on the per-gallon price prior to departure. This will be based on how many gallons are burned during the trip, and we will give you a fuel usage and burn rate based on the number of days of your trip.
This will be averaged per day based on a 7-day cruise in which we normally burn 900 gallons, and your additional costs with the routes that we take are based on 125 gallons per day. We know the routes, the distances, and the burn rates of the engine.
Our standard prices have always been based on fuel costing no more than $4.00 and we have never in our history of cruises had to consider a fuel surcharge until now.
What's Included In Our All Inclusive Cruise Rates?
We've packed our all-inclusive cruise rates with value so that you can truly enjoy your vacation without worrying about extra fees, add-on costs, or bringing your checkbook.
What's included in your rate:
Freshwater Fishing
All shore excursions based out of the M/V Alaskan Harvest including kayaking and small boat excursions
All meals aboard ship
Onboard Professional Guide and Skipper
Airport transfers
All taxes, port charges, and fees
What's not included in your rate:
Airfare to and from your home city
Floatplanes to or from the yacht
Rain gear & boots
Personal Fly rods & fishing gear
Freshwater fishing gear and fishing license
Spirits & Alchohol ( provide us with a list and we will have it on board for you)
Discretionary gratuities to vessel's crew, typically 10% of the fare
Travel insurance
Optional pre- or post-night hotel stay in Sitka, Juneau, or Petersburg
If as a result of inclement weather or other conditions beyond our control that may prevent or delay your cruise departure or arrival, you will be responsible to book any additional hotel or transportation needed. Any additional costs are your responsibility.
*Salt Water Fishing in Sitka can be added to your trip upon request. This would take up the first or last day of your cruise.