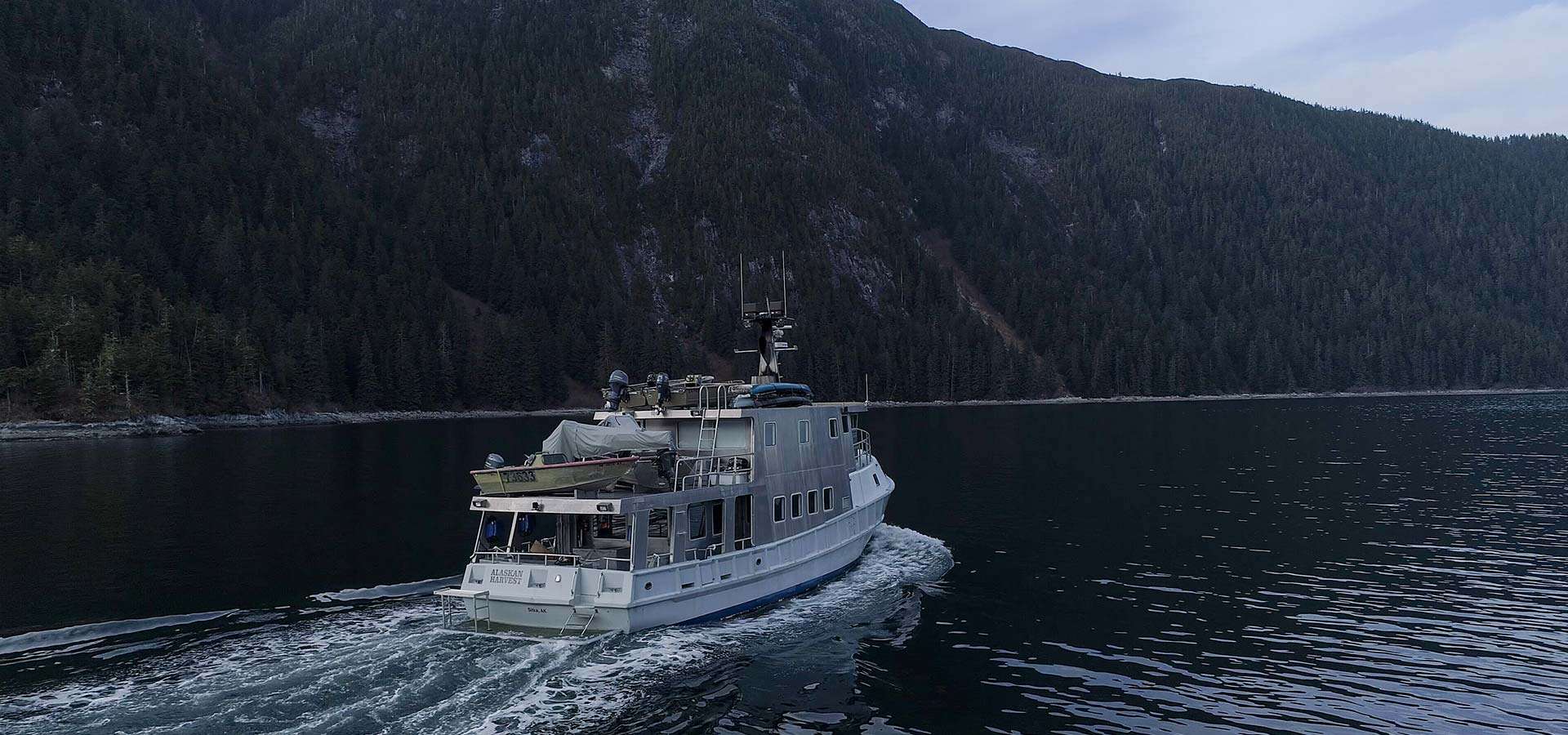 Luxury Boat Cruises in Alaska's Inside Passage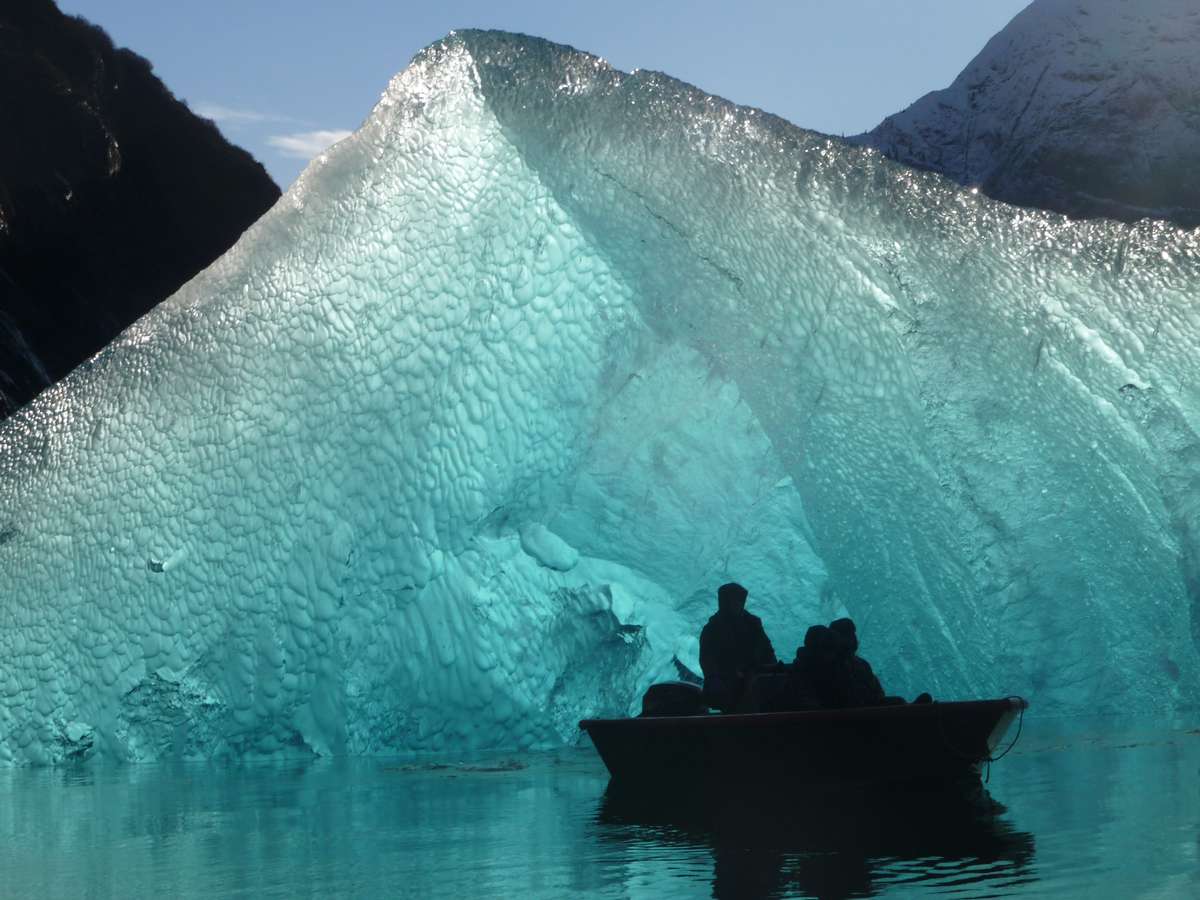 A cruise on the world-renowned Inside Passage in Alaska is a must-do if you enjoy traveling by boat through some of the most scenic landscapes in America. Stretching between coastal British Columbia to the south and the Alaska Panhandle to the north, the Inside Passage boasts over 1,000 islands tucked within and bordered by the Alexander Archipelago and over 15,000 miles of seacoast.
Shaped by the staggering force of ancient glaciers formed thousands of years ago, Alaska's Inside Passage boasts majestic fjords which are habitat for abundant wildlife including bald eagles, sea lions, bears, deer, wolves, migrating seabirds, porpoises, and whales. The shores of the Inside Passage are lush with temperate rainforest eco-systems which host a variety of unusual flora and plant life. The Inside Passage area in Alaska is home to Tlingit, Haida Indians whose history is carved in towering totem poles. Russian settlers of these Alaskan communities left a legacy of onion-domed churches.
The Inside Passage is also sometimes referred to as the Inland Passage which is, in turn, a reference to early explorers' quest to locate the Northwest Passage between the Pacific Ocean and the Atlantic Ocean. Long known as a destination for kayakers and canoeists from all over the world as well as cruise enthusiasts, the Inside Passage is also known for its many National Parks including the Tongass National Forest in Alaska, home to Admiralty Island National Monument (Kootznoowoo Wilderness), South Baranof Wilderness and Fords Terror Wilderness (with Tracy Arm, Endicott Arm, and Dawes and Sawyer Glaciers).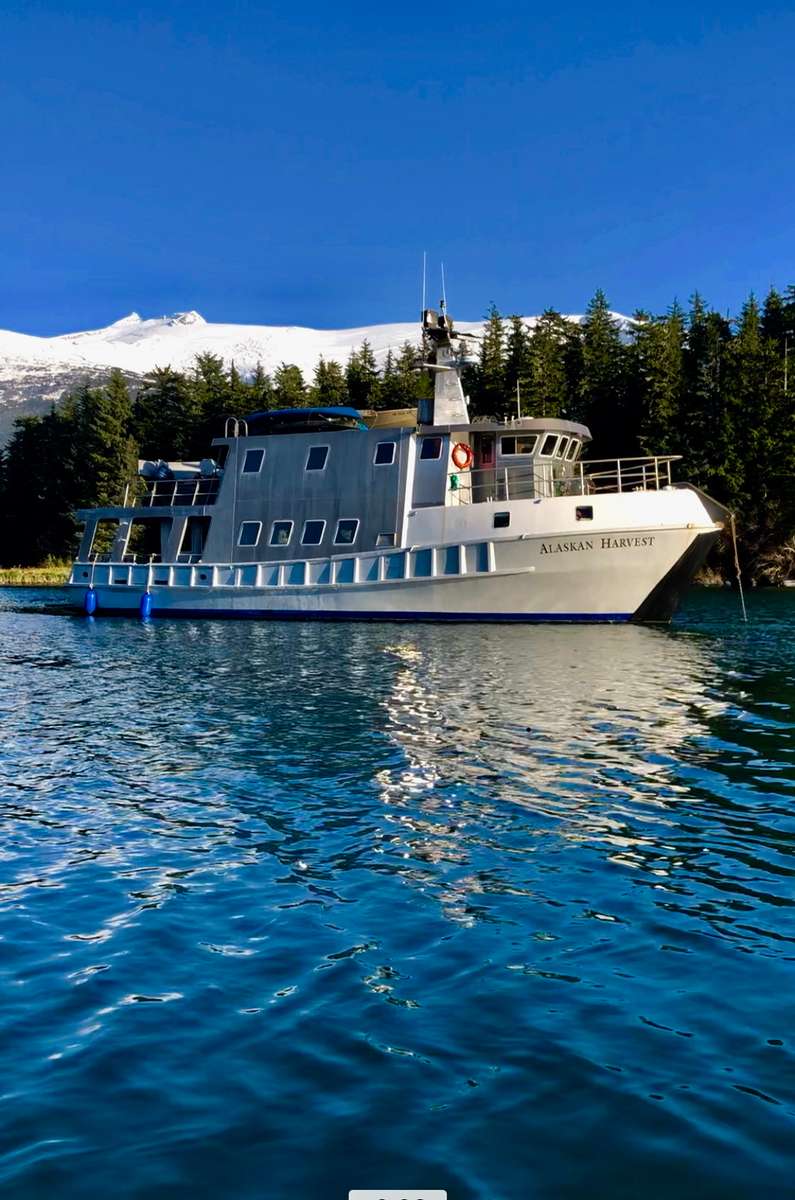 Alaska's Inside Passage Boat Cruises
Your luxury cruise on Alaska's Inside Passage on the M/V Alaskan Harvest begins in either Juneau or Sitka in Southeast Alaska's Panhandle. After you get off of your short flight by commercial airline from Seattle, you will be met by our crew to embark on your Alaskan adventure.
Our intimate but luxurious Alaska cruise yacht offers 6-12 travelers a more personalized and comfortable tour of the dozens of islands comprising Alaska's Inside Passage. Your luxury cruise is simply outstanding, a "must-do" if you like to cruise with stunning views of this area's rugged Alaskan terrain and plenty of opportunities to spot wild animals such as bald eagles, bears, otters, seals, Dall's porpoise, humpback and killer whales, Sitka blacktail deer, mountain goats, and wolves.
The Tongass National Forest's wilderness includes majestic glaciers, Temperate rain forests, and Alaskan Native villages surrounded by towering mountains with snowcapped peaks. As experienced Alaska Luxury Cruise – Beautiful Scenery Alaskan guides, we know all the secret spots among the bays and inlets of the Tongass where we will point out wildlife and marine life as we float past scenic waterfalls and caving glaciers. During your cruise, you can visit Admiralty Island National Monument (Kootznoowoo Wilderness) and Tracy Arm and Endicott Arm off of Holkman Bay and flowing into Stephen's Passage.
You will enjoy a variety of onboard cruise activities on your Alaska charter as well as a diverse array of off-boat excursions. Cruise-based activities included in your luxury cruise on the M/V Alaskan Harvest vary from kayaking, crabbing, glacier viewing, beach combing, whale watching, bear and wildlife viewing to sightseeing by water. Go fishing for halibut, sea bass, or salmon, sauna in a natural hot spring, take a nature walk on shore, learn to paddle a kayak, or just grab your camera, scan the seacoast and practice your photography. You'll enjoy all of this while savoring the fine cuisine onboard prepared by our chef. Relax after dinner with a good book or take in one of our popular movie selections.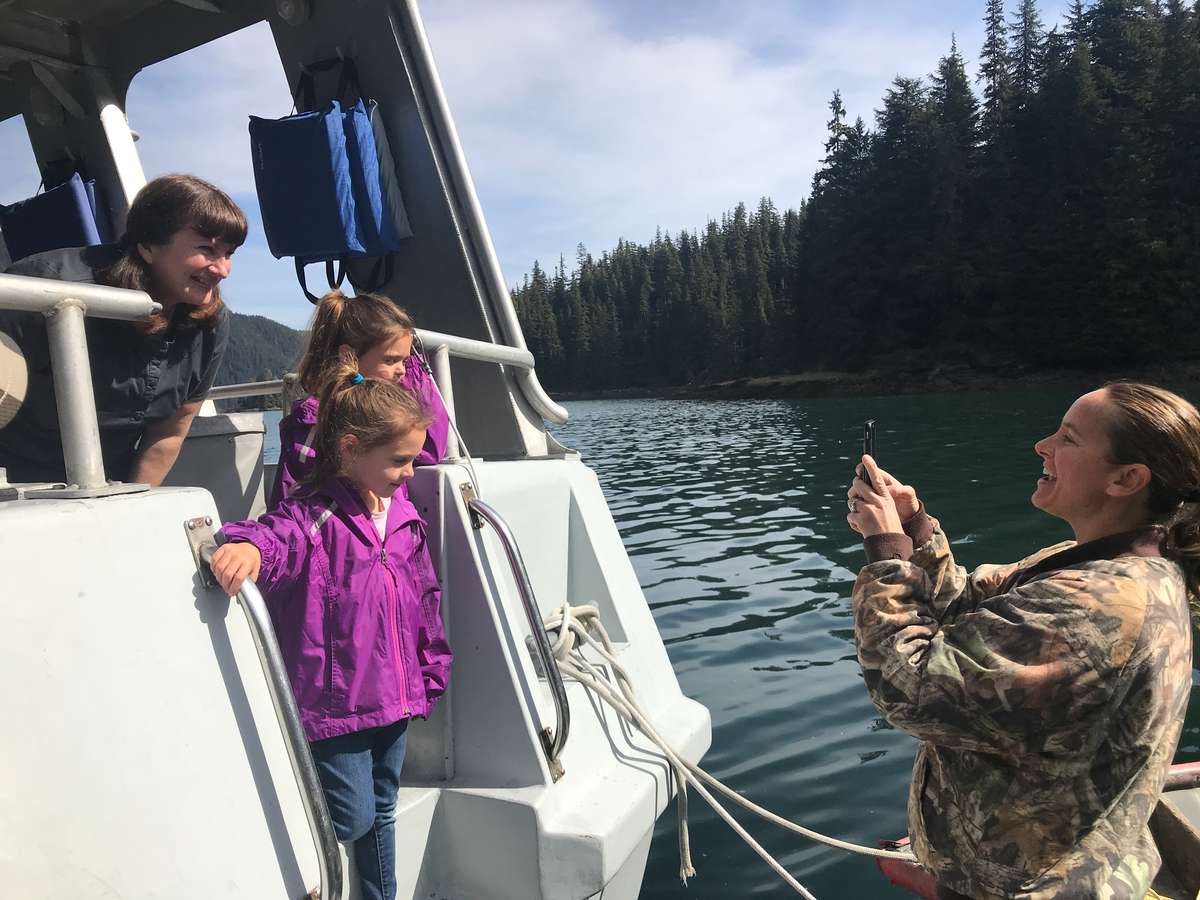 Family Cruise Vacations in Alaska
Plan your next family reunion or family vacation with a luxury cruise in Southeast Alaska on the M/V Alaskan Harvest! A family cruise on a small ship brings your family together for quality time well spent in the outdoors and your kids will be talking to their friends about their luxury cruise in Alaska– for months! Alaska family cruise vacation discounts are available for groups of eight or more. And we limit our family cruise vacation groups to 12 to ensure you and your family receive the utmost personalized attention from our guides.
Our experienced professional outdoor guides will host you and your brood on the M/V Alaskan Harvest with the best in interpretive guides and personalized attention – from teaching you and your family how to fish to learning the ins and outs of local wildlife and eco-systems. Our guides specialize in identifying activities to please everyone in the family – from kids to grandparents – and we have the staff and equipment to ensure that everyone will be able to do something they enjoy while you cruise Alaska's Inside Passage in style.
Your kids will enjoy heading to the beach and discovering the variety of marine life that inhabits the intertidal zone of southeast Alaska while they explore tidal pools and beachcomb. We can teach your kids how to kayak, all about glaciers, why whales breach and how to behave if you ever encounter a bear. With almost 20 years of guiding on Alaska's Inside Passage, we know all the secrets of her flora and fauna. Whether you and your family like participating in every activity we offer or just like to kick back with a good book while we float past the incomparable scenery of Alaska's Inside Passage, we are here to make your family's cruise in Southeast Alaska the experience of a lifetime. For more information regarding our family cruise vacations contact us, and we will be happy to answer any questions you have.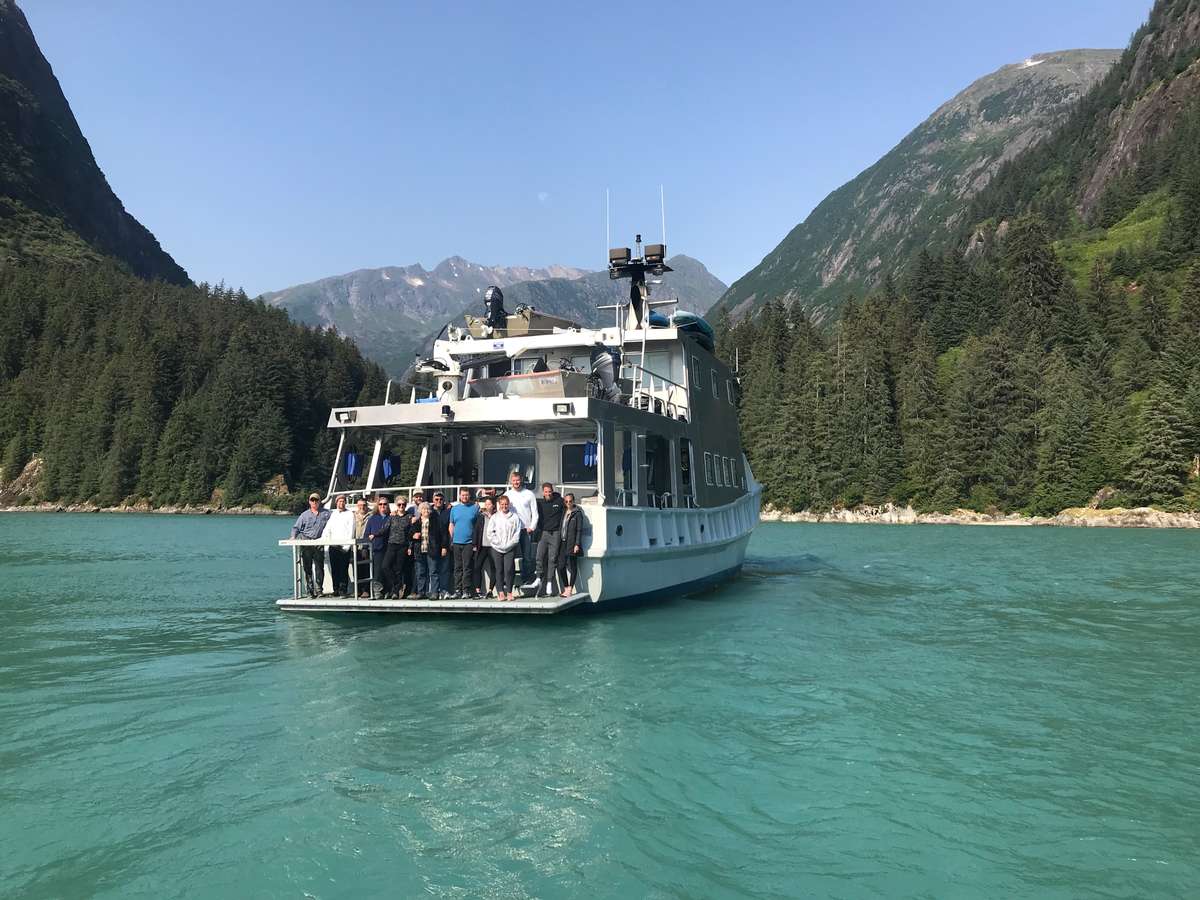 Luxury Yacht Charters for Groups
With almost 30 years guiding guests on cruises through the bays and straits of Alaska's Inside Passage, we will treat your group to a private luxury yacht charter which will be the Alaska cruise experience of a lifetime.
We have taken groups on our cruises from corporate teams and incentive trips to community, civic, and religious groups or boy scouts and girl scout troops on our popular cruises through the unparalleled scenery of Alaska's Inside Passage.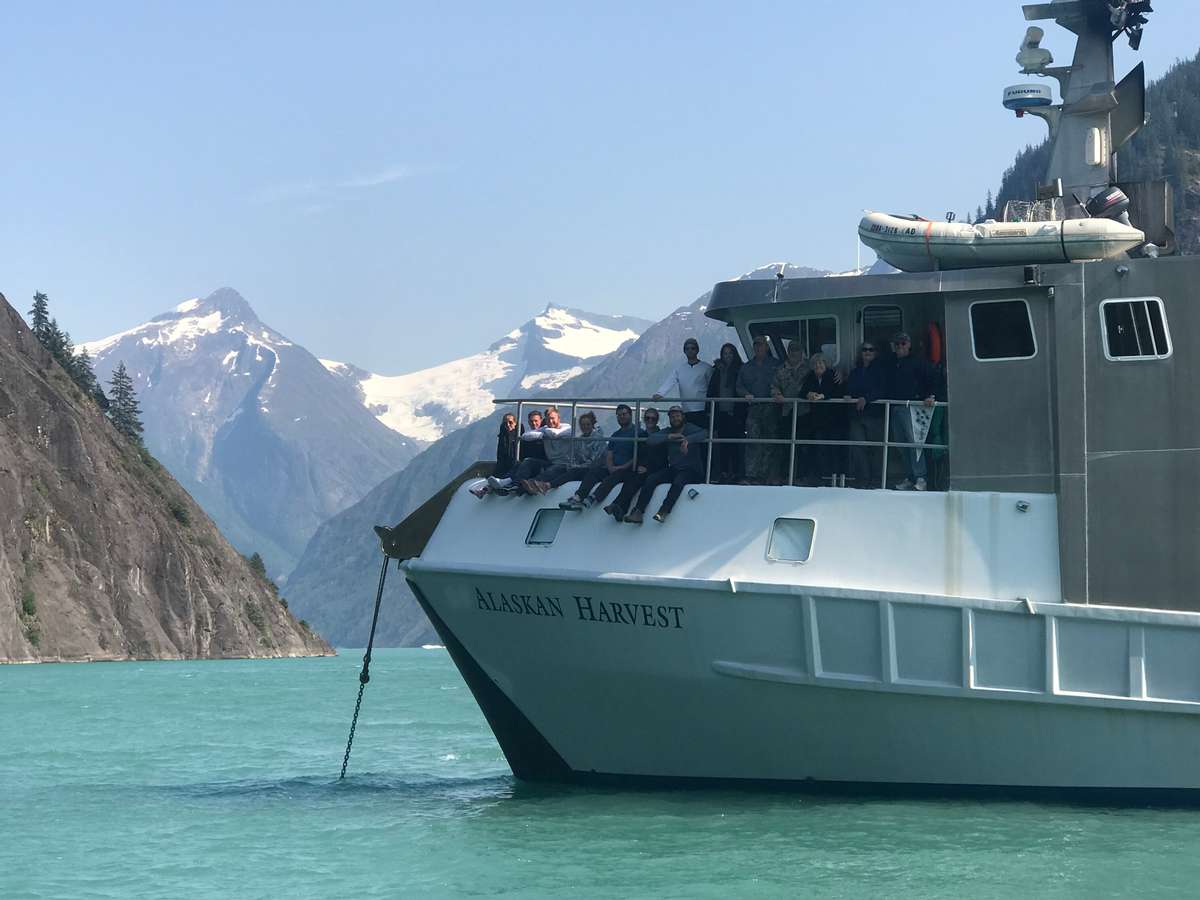 Luxury Yacht Charters – Personalized Service
We are able to offer highly personalized service on our Alaska cruises due to our limitations on total group size (12) and we are flexible to pattern daily cruise activities, shore excursions, and even your Inside Passage cruise route to your group's specific interests.
This truly sets us apart from other Alaskan private charter operators.
Our floating lodge, the M/V Alaskan Harvest is your group's luxurious and comfortable "home away from home" during your Inside Passage cruise. The spacious main cabin of the M/V Alaskan Harvest has a large table and lounge area, ideal places to hold a company meeting. When your work is complete, we're ready to help your team relax providing all the necessary gear to help them take advantage of everything that Southeast Alaska has to offer. Whether it's fishing with our premium gear, hiking, kayaking, beachcombing, viewing marine and other wildlife, or glaciers from one of our two skiffs it's our goal to make sure you and your group get the most out of your Alaska cruise experience. When the day is over and we are anchored in a quiet protected cove, you and your colleagues can retire to your private staterooms and enjoy a peaceful night's rest in preparation for the next day's activities.
Bring your group to Alaska's Inside Passage and enjoy 4 nights and 5 days of fishing on a charter trip. ** Parker Guide Service can accommodate your group for however many days you prefer for cruises, we don't just book the 4 night 5-day trips. Contact us today for further details. For more information please contact us, and we will be happy to answer any questions you have and help you plan an unforgettable Alaskan cruise experience.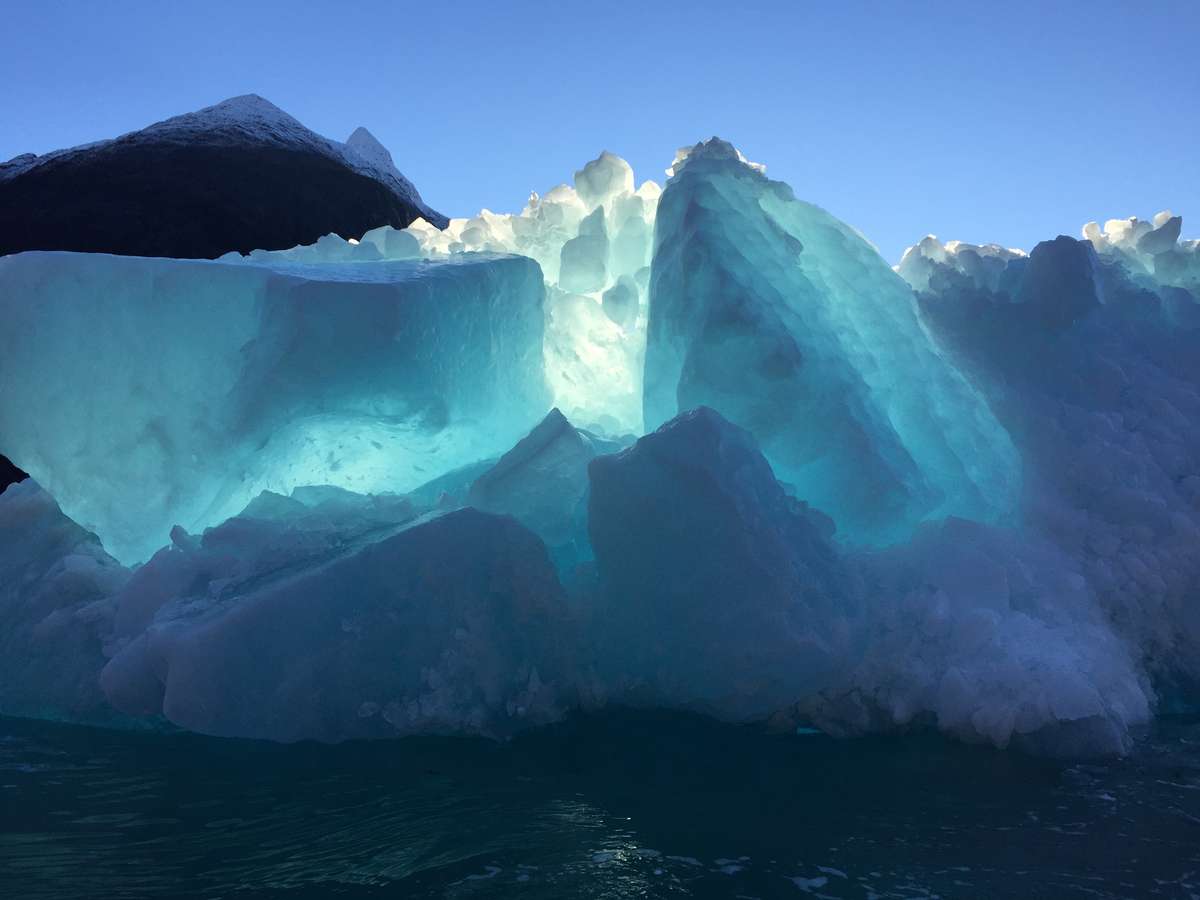 Alaska Glacier Cruises
A small group Alaska Glacier Cruise with Parker Guide Service is an awe-inspiring experience!
Alaska can easily be called the "Land of 1000 Glaciers!" Glaciers flow from ice packs high in the mountains and are responsible for creating and feeding most of Alaska's rivers. Tidewater glaciers flow directly into nearby waterways at the head of fjords or inlets which they carved while retreating. These glaciers can move ahead at speeds of several feet a day or suddenly surge as much as 300 feet.
Alaska Glacier Cruises – Experience the Majesty
Alaska's glaciers are a must-see on any Alaska cruise tour. Experiencing a "calving" glacier is awe-inspiring as you listen to the creaking and crashing as pieces of tidewater glaciers fall away. The noticeable blue cast of Alaska's glaciers creates a beautiful visual panorama which is created as the dense ice absorbs all colors in the spectrum except blue, which is then reflected.
Our luxury Alaska Glacier cruises allow you to visit many of Alaska's Inside Passage glaciers including Mendenhall Glacier, North and South Sawyer Glaciers, and Dawes Glacier among others.
MENDENHALL GLACIER
Mendenhall Glacier, located in Alaska's state capital of Juneau, is the most accessible of Alaska's glaciers (via the Glacier Highway) and lies within the 1,500-square-mile Juneau Icefield. Mendenhall extends 12 miles from its source, the Juneau Icefield, to Mendenhall Lake and feeds the Mendenhall River.
SAWYER GLACIER
Sawyer Glacier lies at the end of Tracy Arm, a 26-mile-long fjord surrounded by lush rainforested valleys with cascading waterfalls, rock canyons, and 7,000-foot mountain peaks. Icebergs dot the waters of Holkman Bay, the entrance to the fjord at the end of which we reach North Sawyer and South Sawyer Glaciers. The face of South Sawyer Glacier stretches one-third of a mile and actively calves icebergs with surrounding harbor seals lounging on these icy floats. Kittiwakes and mountain goats and sometimes whales and bears inhabit the area surrounding the two Sawyer Glaciers.
DAWES GLACIER
Dawes Glacier lies 30 miles at the end of Endicott Arm nestled within the Coast Mountain Range. With numerous icebergs formed as the glacier calves pieces into Endicott's waters, we see black and brown bears, mountain goats, Sitka blacktail deer, eagles, wolves, sea lions, and harbor seals.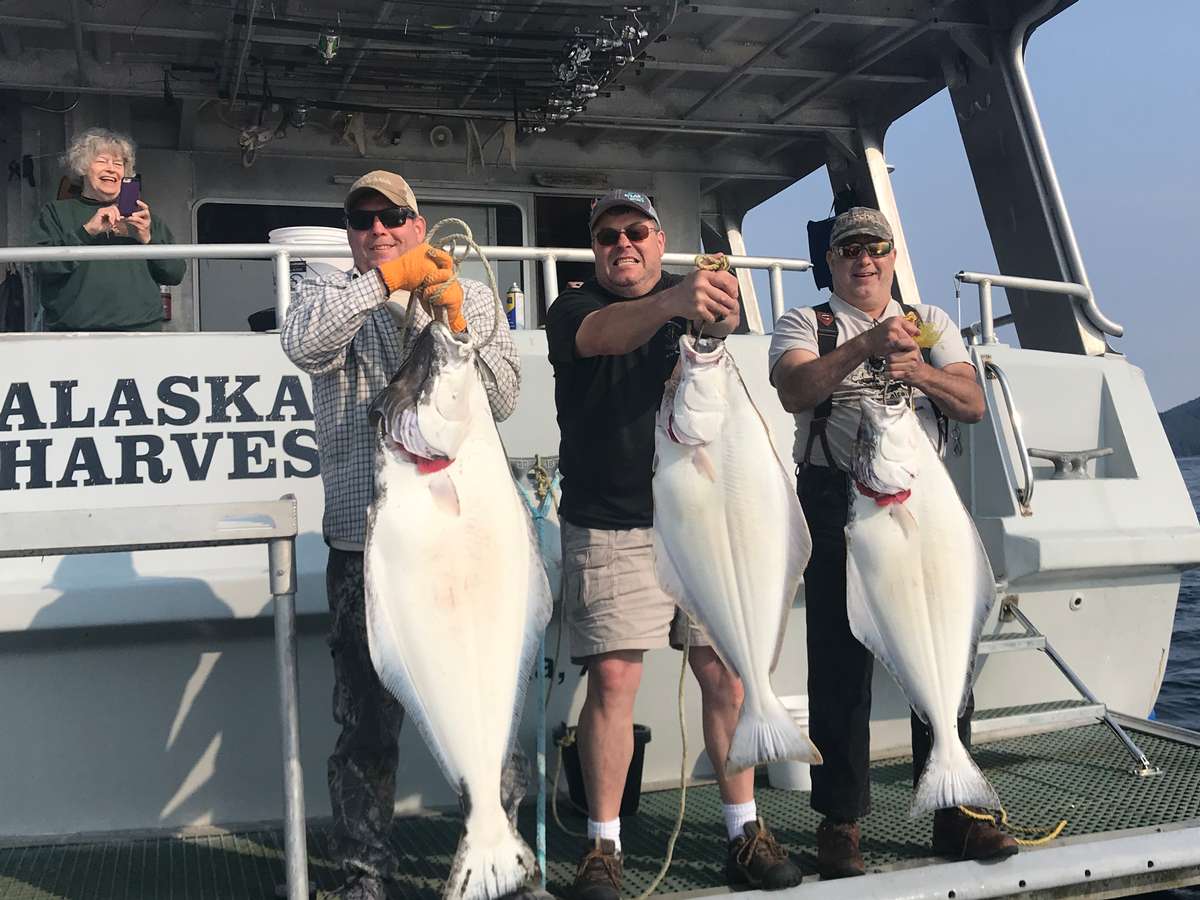 Alaska Fishing Vacations & Charters
Alaska's Inside Passage is an angler's delight with protected waterways minimizing ocean swells and maximizing catches of halibut and salmon. As professional outdoor guides experienced in our deep knowledge of the waterways of Alaska's Inside Passage, Alaska Boat Cruises offers our summer guests the option of fishing for halibut, all 5 species of salmon, rockfish, and more as part of their luxury cruise experience in Alaska. In addition, we also offer 4 to 5-day private fishing charters on the Inside Passage available from June to August on a first-come, first-serve basis.
We host our anglers, from beginners to experts, on the M/V Alaskan Harvest floating lodge – by night – and use hi-tech day boats (approximately 30 and 33 feet) for our fishing by day. This arrangement allows our guest fisherman to fish in the more remote bays, sounds, and straights of the Inside Passage near Sitka, Juneau, and Petersburg and find the top fishing spots while still being in close proximity to our luxury yacht, the M/V Alaskan Harvest.
With more time for fishing, quiet anchorages in remote settings each evening, and world-class lodging and dining, you'll enjoy an unparalleled Alaska fishing experience. Whether you enjoy fishing in Alaska for big halibut, trolling for King Salmon or tackle fishing or fly fishing for silvers, we've got you covered at Alaska Boat Cruises!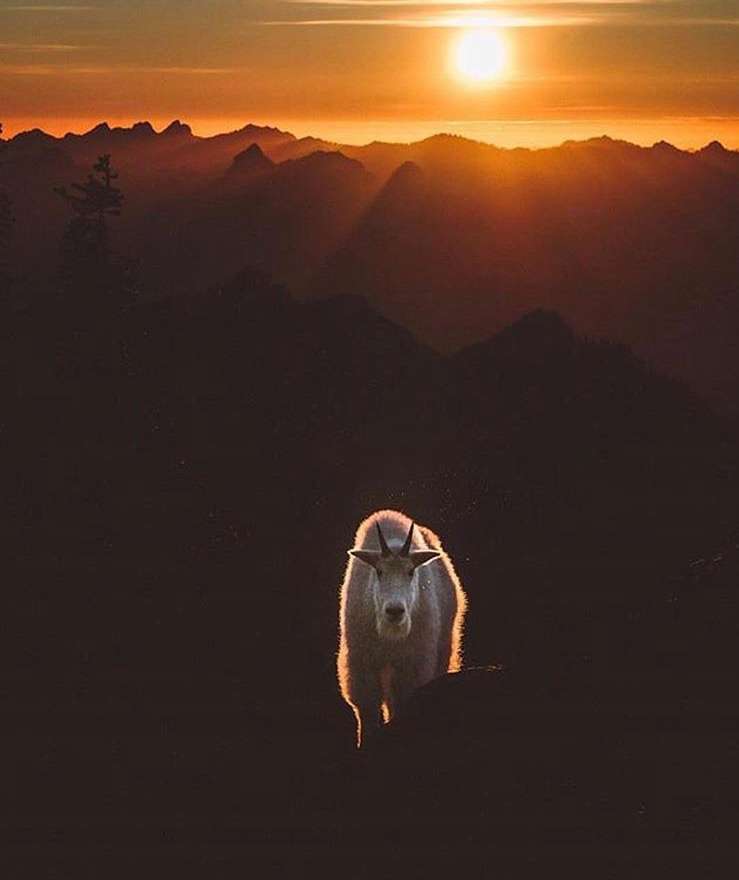 Eco Tours in Alaska
Until fairly recently, Alaska's economy has depended on harnessing its vast natural resources including oil, fish and game, and precious minerals. With fishing and tourism now being the largest private employers in the state and tourism growing substantially with the advent of the cruise industry, eco-tourism and environmental protections are becoming a stronger priority of all businesses bringing tourists into the state.
The timber industry within Alaska has been in decline for many reasons. Poor planning and management, the high cost of timber extraction, fewer new jobs coming online, and the high per-unit cost of producing lumber. But a key reason is related to the growth in tourism in Alaska. Clear cutting – which decimates landscapes and hillsides, blocks nearby streams with erosion runoff, and inhibits salmon spawning – also creates undesirable visual panoramas from a tourism perspective. Large brown clear cuts in the sides of green hillsides are not what guests like to see while touring S.E. Alaska.
Alaska Boat Cruises and Parker Guide Service want to promote a healthy lifestyle for local Alaskans and strong industries for all in S.E. Alaska. We believe there are resources enough for everyone, including naturalists, photographers, fishermen as well as hunters, as long as Alaska's natural resources are managed carefully. Wildlife need to be able to thrive in their natural habitat and logging managed properly (such as through selective helicopter logging leaving no big bare clear cuts) and environmental decisions made carefully, based on long term goals.
Since we at Alaska Boat Cruises plan to be in business for a long time, we hope that the majority of resources we enjoy today will, and can be, conserved, enjoyed, and utilized properly for today and for future generations. We are committed to working with others here in S.E. Alaska in achieving that goal.
Eco Tour Alaska – The Alaskan Harvest
The M/V Alaskan Harvest was built with conservation in mind and we are always very conscious of our use of oil and gas. Our 80' vessel, the M/V Alaskan Harvest, only uses an average of 2 gallons/guest/hour of cruise time, based on 6 guests. Other larger cruise ships (120' to 200'), use 12 gallons or more per guest/cruise hour. So while these larger vessels' usage of fuel is upwards of 100 gallons or more per hour, our usage is 10-12 gallons per hour.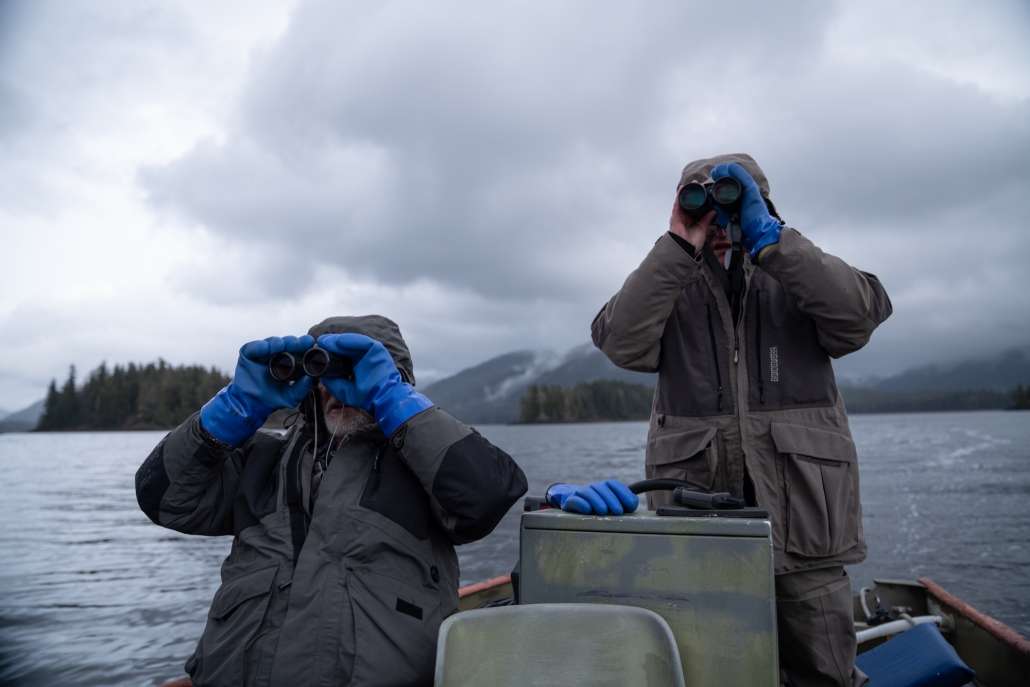 What is Involved in an Alaskan Inside Passage Boat Cruise?
We offer a seven-day/ six-night cruise on the Inside Passage with weekly departures from the communities of Sitka, Juneau, or Petersburg, Alaska. We offer inspiration and help for planning the trip of a lifetime! Sample itineraries are flexible and we are also available to help you design a custom itinerary that incorporates your own desired route by water through this wilderness paradise in Alaska. Check out our Sample Itineraries and packing list below for more info:
Helpful Hints & Tips for Your Cruise
SPECIAL REQUESTS:
Prior to your trip if you have any special requests such as sights that you want to see, or activities that you want to do, just let us know. This is YOUR trip. It is our job to give you the best experience that you are wanting for your group. If you were planning to celebrate a special occasion while onboard such as a birthday, honeymoon, or anniversary we would love to make this extra special for you. Desserts, decorations, gifts, and side trips can be arranged for your special day.
MEDICAL CARE:
At times we have an RN on board, however, all of our crew are certified in First Aid, CPR, and the use of an onboard defibrillator. We can arrange a medical evacuation with the United States Coast Guard, as well as satellite communication with a physician. Please carry your regular meds in your carry-on luggage so you don't run into any problems while flying to Alaska. If you have any special medical or accessibility requests please let us know and we will do our very best to accommodate you. Please review your health insurance before traveling. We personally use and recommend Medi-Jet, Apollo, and Life jet in case of medical emergency transport.
PROTECT YOUR INVESTMENT:
Life happens. We strongly recommend all of our clients secure travel protection. You might want to think about buying trip insurance just in case of a medical emergency.
FOOD:
We do our best to provide the freshest produce, seafood, and meats available to us. We would love to know your dislikes and likes. If there are any allergies and dietary restrictions we would like to know this well ahead of time to ensure we have everything that you will need on board. Although we cannot supply alcohol onboard, you are more than welcome to get your spirits in town prior to your trip. We always have a variety of non-alcoholic refreshments on board.
MONEY:
Payment of your trip: A personal check or wire deposit is preferred. Tips are at the discretion of the guest. Typically 10% of the overall trip cost, shared among the crew is considered a nice, standard tip. Let your satisfaction with our service be your guide.
DRUGS:
Now that Marijuana is legal in Alaska-can I bring it on the cruise? All vessels in Alaska are under federal jurisdiction. No illegal drugs, drug paraphernalia, or marijuana will be allowed onboard.
SMOKING:
There are certain areas on the yacht where smoking is permitted outside and away from fuel fumes. Please be considerate of others while smoking and close the doors to the yacht so the smoke won't travel inside the yacht.
GLACIERS:
If you are not on one of our fishing trips, you will be visiting Tracy Arm and possibly Endicott Arm on your journey with us. These are vast Glacial Fjords with amazing geological sights. Along with calving glaciers, there is an abundance of wildlife to spot along the way to the end of the fjords. Be on the lookout for majestic Mountain Goats, a sporadic Black bear, Sitka deer, and a variety of Sea Mammals. We get up close and personal with the glaciers in kayaks and 18ft. skiffs for amazing photographic opportunities. We stay in the Arm at night to ensure some solitude. You will be so happy that you checked this excursion off your bucket list. It truly is an amazing place to see.
WILDLIFE:
We will do our best to show you all the wildlife to your heart's desire. There is an abundance of Bald Eagles and other birds. Humpback and Orca (Killer) whales are on our list, along with sea lions, seals, Dahl porpoise, sea otters, Sitka Deer, Moose, Black Bear, Wolf, Mountain Goat, and those majestic Brown Bears. All wildlife can be viewed for the large vessel, up closer in 18ft. skiffs, or ashore.
OTHER COSTS?
Round trip Airfare from either Sitka or Juneau, Alaska, travel insurance, Fishing Licenses for fishermen, as well as air charters to/from the yacht, are not included in your trip. Please plan on purchasing your wine, beer, and spirits in town before you board.
PHONE SERVICE:
In most areas, we will be within cell range. AT & T works best. Verizon and Sprint not so much and hardly ever. We do have a satellite phone on board in case of emergencies or if a necessary call needs to be made. The satellite phone number is 1-480-768-2500 and then punch in when prompted: 8816-3163-3350. Do not leave a message on this phone, as we will never receive it. Just keep trying to call until someone picks up. You can always try to call 907-747-6026 or email us as well. Usually, someone is in town and can relay a message to the yacht.
TELEVISION:
Sorry, it's time to unplug or download prior to boarding the yacht. We enjoy playing cards, cribbage, and other board games onboard. It's also time to unwind, tell fishing stories or just enjoy getting some extra downtime watching an amazing sunset or sunrise off the back deck. We also have an entertainment system onboard with a DVD/VCR player and television in the main salon. Sorry, we do not have cable or Direct TV.
YOUR CABIN:
All linens and towels are provided for your stay. If you would like fresh linens just let the staff know. You have access to 110-volt outlets (US-style plugins), fans, heaters, hairdryers, as well as a full or shared bath, depending on your group's size. Feel free to bring your CPAP if you have one.
LAUNDRY:
The ship's dryer locker may be used to dry wet clothes.
CAN I DRINK THE TAP WATER?
The tap water is fresh from local towns and is safe to drink.
THE WEATHER:
You will be cruising through a temperate rainforest. Plan on mid-60s during the day and mid 40's at night with rain showers in between. Plan on shedding layers throughout the day for comfort so a small daypack would come in handy. For more details on what to pack, look at our suggested packing list.
Please let us know if you have any more questions. We want you to have the best memories of Alaska while onboard with us.
We look forward to having you aboard soon!
Captains Bruce & Ann-Marie Parker