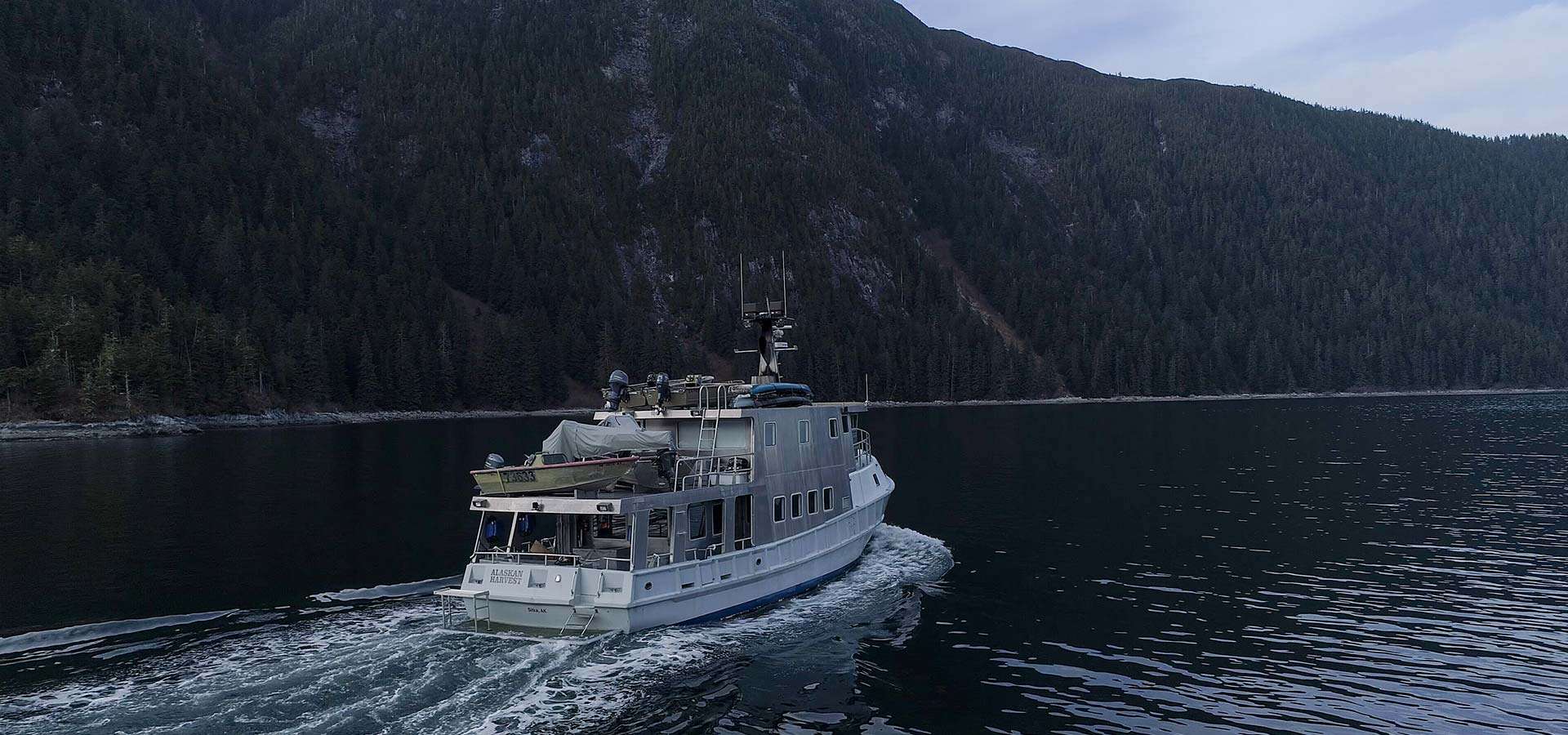 Luxury Boat Cruises in Alaska's Inside Passage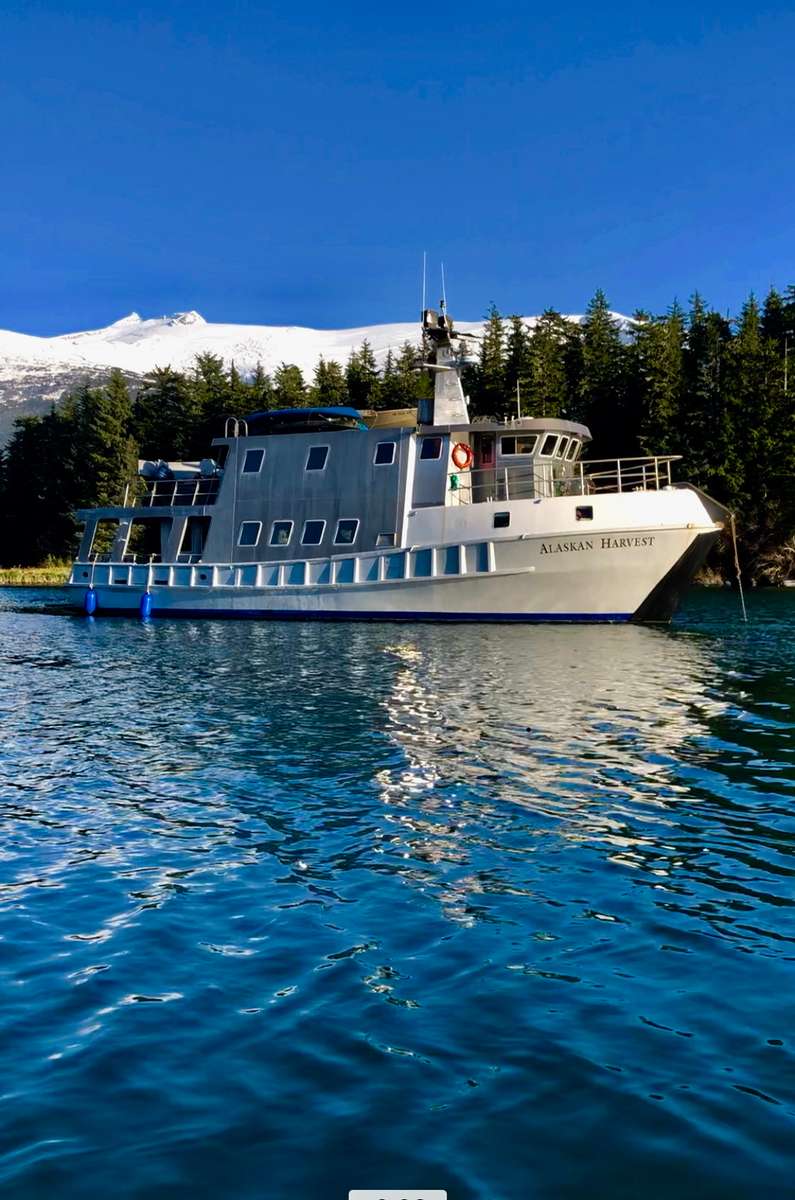 Your luxury cruise on Alaska's Inside Passage on the M/V Alaskan Harvest begins in either Juneau or Sitka in Southeast Alaska's Panhandle. After you get off of your short flight by commercial airline from Seattle, you will be met by our crew to embark on your Alaskan adventure.
Our intimate but luxurious Alaska cruise yacht offers 6-12 travelers a more personalized and comfortable tour of the dozens of islands comprising Alaska's Inside Passage. Your luxury cruise is simply outstanding, a "must-do" if you like to cruise with stunning views of this area's rugged Alaskan terrain and plenty of opportunities to spot wild animals such as bald eagles, bears, otters, seals, Dall's porpoise, humpback and killer whales, Sitka blacktail deer, mountain goats, and wolves.
The Tongass National Forest's wilderness includes majestic glaciers, Temperate rain forests, and Alaskan Native villages surrounded by towering mountains with snowcapped peaks. As experienced Alaska Luxury Cruise – Beautiful Scenery Alaskan guides, we know all the secret spots among the bays and inlets of the Tongass where we will point out wildlife and marine life as we float past scenic waterfalls and caving glaciers. During your cruise, you can visit Admiralty Island National Monument (Kootznoowoo Wilderness) and Tracy Arm and Endicott Arm off of Holkman Bay and flowing into Stephen's Passage.
You will enjoy a variety of onboard cruise activities on your Alaska charter as well as a diverse array of off-boat excursions. Cruise-based activities included in your luxury cruise on the M/V Alaskan Harvest vary from kayaking, crabbing, glacier viewing, beach combing, whale watching, bear and wildlife viewing to sightseeing by water. Go fishing for halibut, sea bass, or salmon, sauna in a natural hot spring, take a nature walk on shore, learn to paddle a kayak, or just grab your camera, scan the seacoast and practice your photography. You'll enjoy all of this while savoring the fine cuisine onboard prepared by our chef. Relax after dinner with a good book or take in one of our popular movie selections.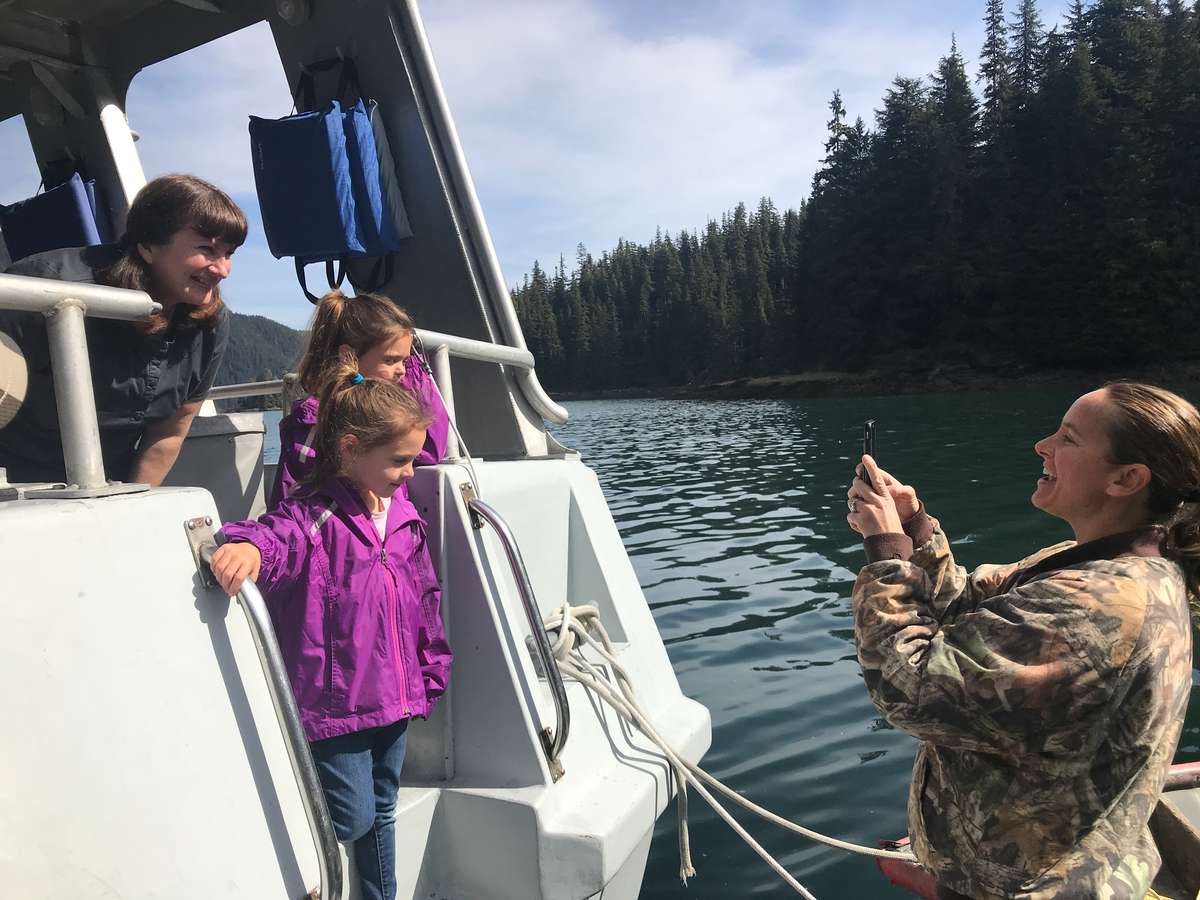 Family Cruise Vacations in Alaska
Plan your next family reunion or family vacation with a luxury cruise in Southeast Alaska on the M/V Alaskan Harvest! A family cruise on a small ship brings your family together for quality time well spent in the outdoors and your kids will be talking to their friends about their luxury cruise in Alaska– for months! Alaska family cruise vacation discounts are available for groups of eight or more. And we limit our family cruise vacation groups to 12 to ensure you and your family receive the utmost personalized attention from our guides.
Our experienced professional outdoor guides will host you and your brood on the M/V Alaskan Harvest with the best in interpretive guides and personalized attention – from teaching you and your family how to fish to learning the ins and outs of local wildlife and eco-systems. Our guides specialize in identifying activities to please everyone in the family – from kids to grandparents – and we have the staff and equipment to ensure that everyone will be able to do something they enjoy while you cruise Alaska's Inside Passage in style.
Your kids will enjoy heading to the beach and discovering the variety of marine life that inhabits the intertidal zone of southeast Alaska while they explore tidal pools and beachcomb. We can teach your kids how to kayak, all about glaciers, why whales breach and how to behave if you ever encounter a bear. With almost 20 years of guiding on Alaska's Inside Passage, we know all the secrets of her flora and fauna. Whether you and your family like participating in every activity we offer or just like to kick back with a good book while we float past the incomparable scenery of Alaska's Inside Passage, we are here to make your family's cruise in Southeast Alaska the experience of a lifetime. For more information regarding our family cruise vacations contact us, and we will be happy to answer any questions you have.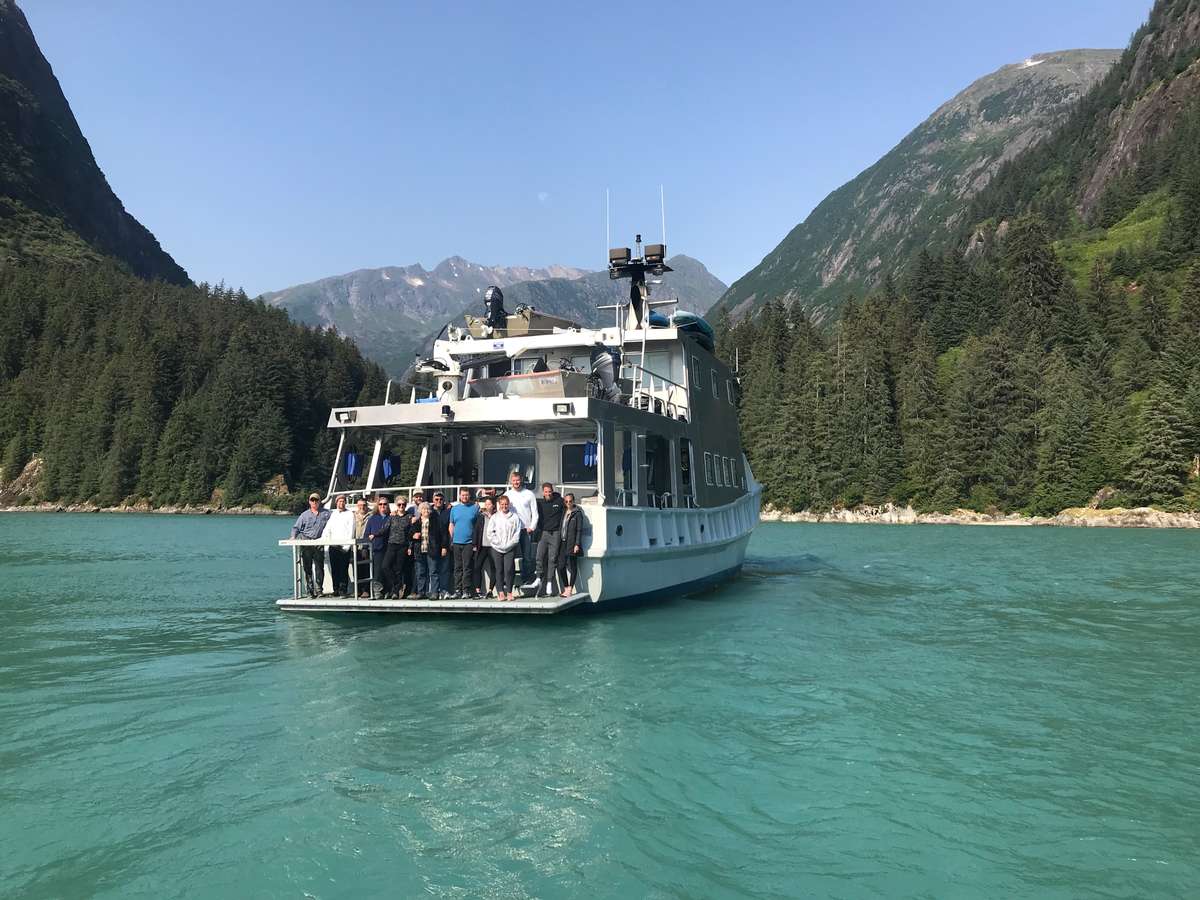 Luxury Yacht Charters for Groups
With almost 30 years guiding guests on cruises through the bays and straits of Alaska's Inside Passage, we will treat your group to a private luxury yacht charter which will be the Alaska cruise experience of a lifetime.
We have taken groups on our cruises from corporate teams and incentive trips to community, civic, and religious groups or boy scouts and girl scout troops on our popular cruises through the unparalleled scenery of Alaska's Inside Passage.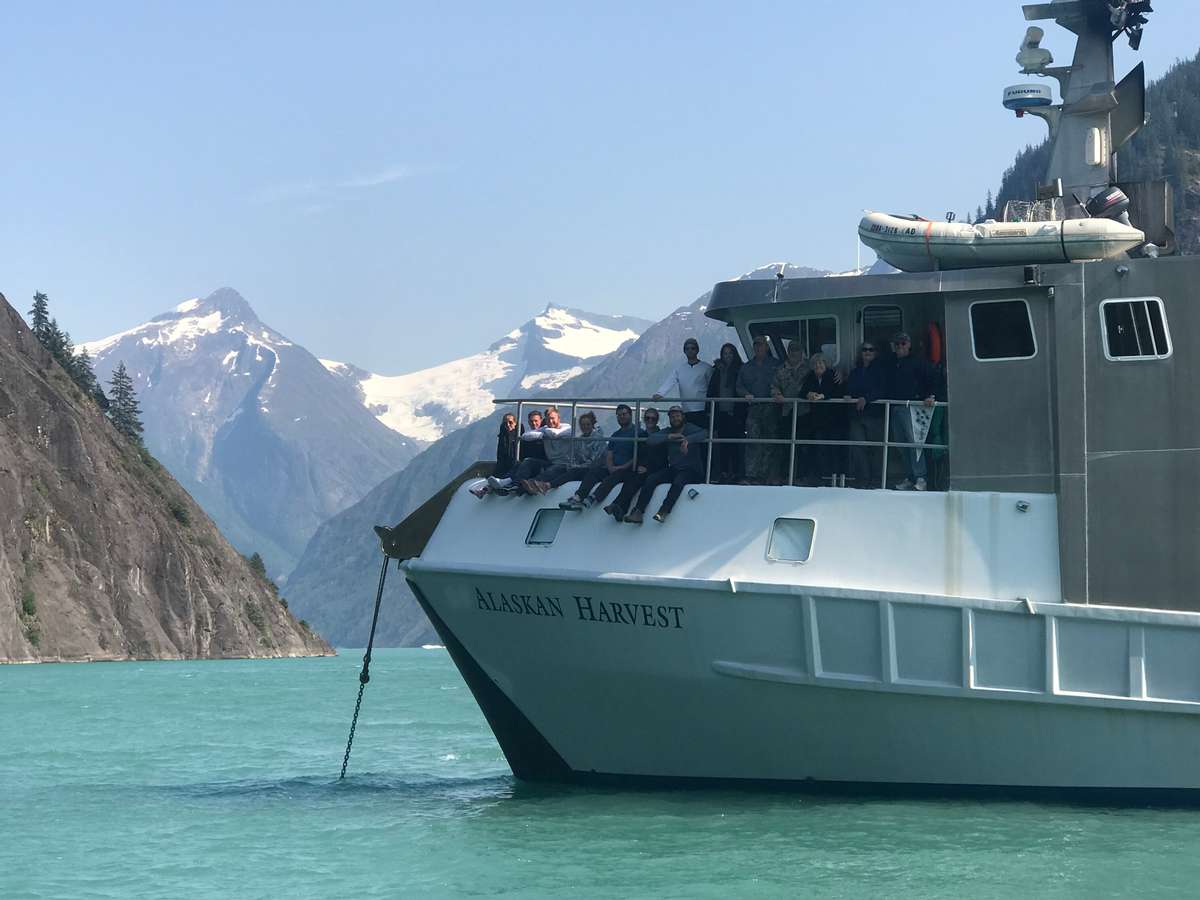 Private Cruises in Alaska - Family and Small Groups
We are able to offer highly personalized service on our Alaska cruises due to our limitations on total group size (12) and we are flexible to pattern daily cruise activities, shore excursions, and even your Inside Passage cruise route to your group's specific interests.
This truly sets us apart from other Alaskan private cruise operators.
Our floating lodge, the M/V Alaskan Harvest is your group's luxurious and comfortable "home away from home" during your Inside Passage cruise. The spacious main cabin of the M/V Alaskan Harvest has a large table and lounge area, ideal places to hold a company meeting. When your work is complete, we're ready to help your team relax providing all the necessary gear to help them take advantage of everything that Southeast Alaska has to offer. Whether it's fishing with our premium gear, hiking, kayaking, beachcombing, viewing marine and other wildlife, or glaciers from one of our two skiffs it's our goal to make sure you and your group get the most out of your Alaska cruise experience. When the day is over and we are anchored in a quiet protected cove, you and your colleagues can retire to your private staterooms and enjoy a peaceful night's rest in preparation for the next day's activities.
Bring your group to Alaska's Inside Passage and enjoy 4 nights and 5 days of fishing on a charter trip. ** Parker Guide Service can accommodate your group for however many days you prefer for cruises, we don't just book the 4 night 5-day trips. Contact us today for further details. For more information please contact us, and we will be happy to answer any questions you have and help you plan an unforgettable Alaskan cruise experience.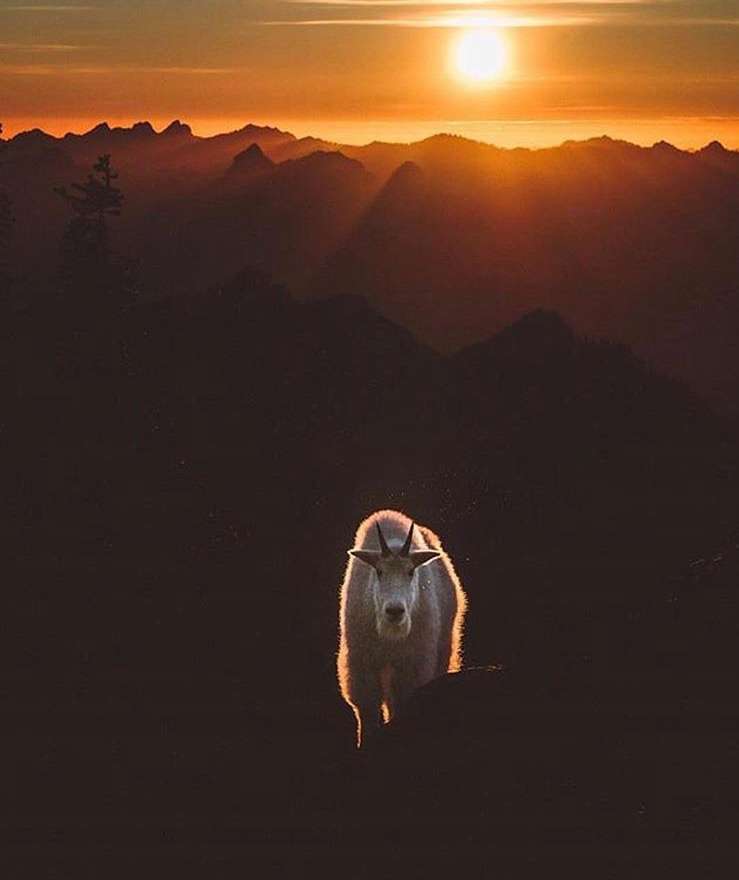 Eco Tours in Alaska
Until fairly recently, Alaska's economy has depended on harnessing its vast natural resources including oil, fish and game, and precious minerals. With fishing and tourism now being the largest private employers in the state and tourism growing substantially with the advent of the cruise industry, eco-tourism and environmental protections are becoming a stronger priority of all businesses bringing tourists into the state.
The timber industry within Alaska has been in decline for many reasons. Poor planning and management, the high cost of timber extraction, fewer new jobs coming online, and the high per-unit cost of producing lumber. But a key reason is related to the growth in tourism in Alaska. Clear cutting – which decimates landscapes and hillsides, blocks nearby streams with erosion runoff, and inhibits salmon spawning – also creates undesirable visual panoramas from a tourism perspective. Large brown clear cuts in the sides of green hillsides are not what guests like to see while touring S.E. Alaska.
Alaska Boat Cruises and Parker Guide Service want to promote a healthy lifestyle for local Alaskans and strong industries for all in S.E. Alaska. We believe there are resources enough for everyone, including naturalists, photographers, fishermen as well as hunters, as long as Alaska's natural resources are managed carefully. Wildlife need to be able to thrive in their natural habitat and logging managed properly (such as through selective helicopter logging leaving no big bare clear cuts) and environmental decisions made carefully, based on long term goals.
Since we at Alaska Boat Cruises plan to be in business for a long time, we hope that the majority of resources we enjoy today will, and can be, conserved, enjoyed, and utilized properly for today and for future generations. We are committed to working with others here in S.E. Alaska in achieving that goal.
Eco Tour Alaska – The Alaskan Harvest
The M/V Alaskan Harvest was built with conservation in mind and we are always very conscious of our use of oil and gas. Our 80' vessel, the M/V Alaskan Harvest, only uses an average of 2 gallons/guest/hour of cruise time, based on 6 guests. Other larger cruise ships (120' to 200'), use 12 gallons or more per guest/cruise hour. So while these larger vessels' usage of fuel is upwards of 100 gallons or more per hour, our usage is 10-12 gallons per hour.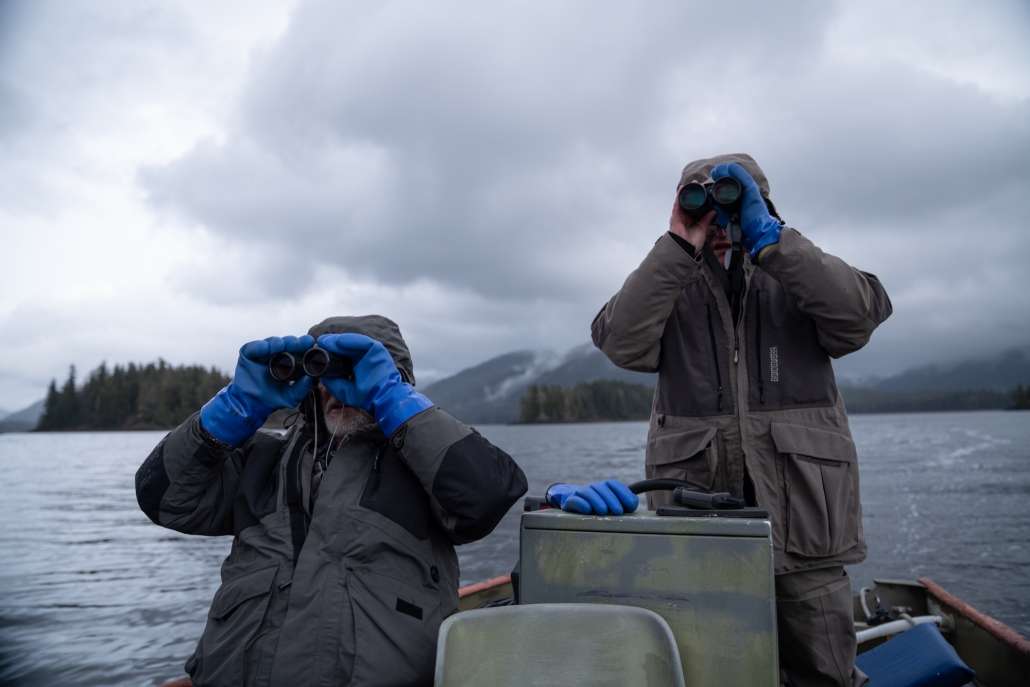 What is Involved in an Alaskan Inside Passage Boat Cruise?
We offer a seven-day/ six-night cruise on the Inside Passage with weekly departures from the communities of Sitka, Juneau, or Petersburg, Alaska. We offer inspiration and help for planning the trip of a lifetime! Sample itineraries are flexible and we are also available to help you design a custom itinerary that incorporates your own desired route by water through this wilderness paradise in Alaska. Check out our Sample Itineraries and packing list below for more info: